To purchase tickets and make nominations for Law Enforcement Exploring Recognition Dinner, please click here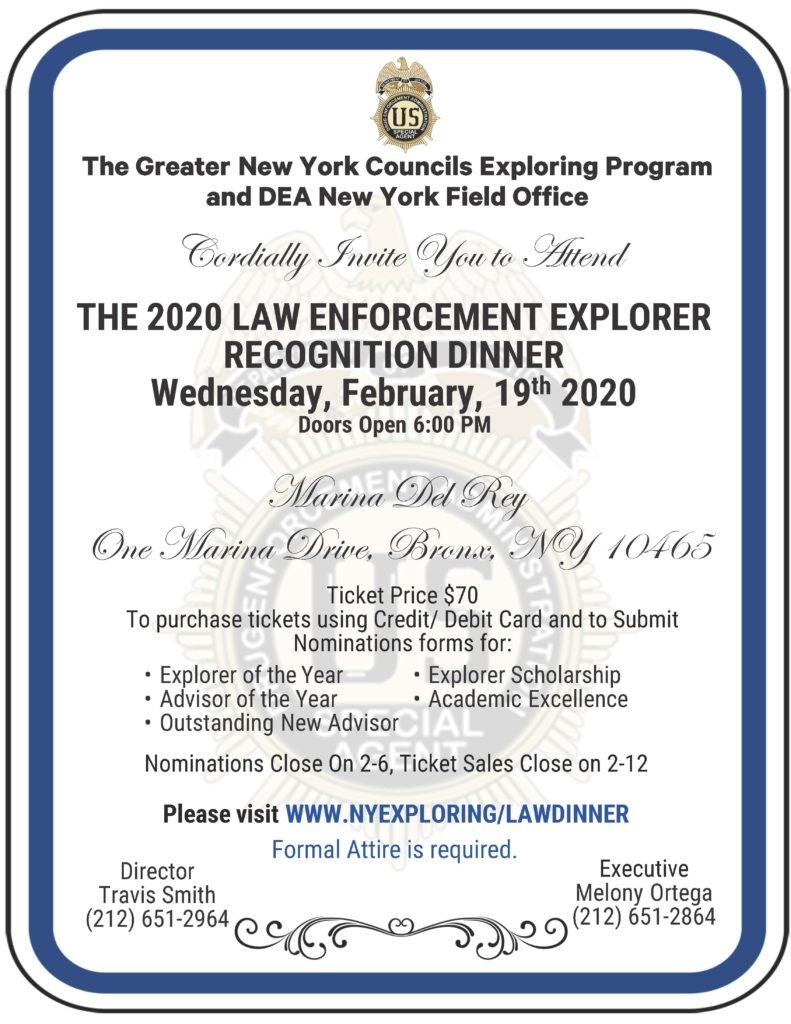 Mission Statement
"To develop and deliver engaging, research based academic, character,

leadership and career focused programs aligned to state and national

standards that guide and enable all students to achieve their full potential."
"To provide positive and meaningful real-world career experiences and

leadership development opportunities for all teenagers and young adults in

their chosen field of interest."
Law Enforcement Exploring is a community service, career-oriented program designed to educate young men and women, ages 14-21, about Law Enforcement. At the end of the year 2014, there were over 4,500 young people in the program. In 2011 the Exploring program established Explorer clubs for youths in the ages of 11-13.
Law Enforcement Exploring is a collaborative effort of several agencies, both local and federal. These agencies include the Federal Bureau of Investigation, Drug Enforcement Administration, U.S. Customs Service, New York City Police Department, New York State MTA Police, AMTRAK Police, New York State Police, ATF and the U.S. Secret Service. These agencies sponsor programs, participate in the Law Enforcement Academy or make their personnel and facilities available for training.
Exploring reaches out to New York's young adults in all of its diverse neighborhoods to help break down barriers between young adults and law enforcement officials. Explorers are taught the importance of higher education, self-discipline in reaching their goals, and are encouraged to see law enforcement as an attainable and attractive career choice.
Exploring relies on three primary methods to attain its goals: youth leadership, positive adult role models, and five experience areas.
Youth Leadership: The Explorers elect their own officers and plan and execute most of their program activities. This encourages Explorers to see how their self-discipline can help or hurt the group.
Positive Adult Role Models: The positive interaction of Explorers and Law Enforcement Officers helps young adults see officers as real people and break down the negative stereotypes they often associate with Law Enforcement.
Five Experience Areas: Exploring feels that an appreciation and commitment to the following areas is crucial to the development of all young people: Career, Life Skills, Service Learning, Character Education, and Leadership Experience.
Explorers are allowed to participate in a variety of citywide programs. The following is a summary of these programs.
The Law Enforcement Exploring Academy. The Academy has two key components. During the first two weeks the Explorers receive classroom instruction and go on field trips to different Law Enforcement facilities. The third week is a high-adventure outdoor experience. The following are some of the program highlights:
Classroom instructions and workshops. Felony Traffic Stops, Domestic Dispute Interventions, Crime Scene Investigations, Water Safety and Defense, CPR Certification, Bomb Response.
Field Trips and Site Visits. The Police Academy, and Fire Academy, Riker's Island, MTA train simulator, the NYPD museum.
High Adventure Activities. Canoeing, Rappelling, Rock-Climbing, Rifle Shooting, and a Low-Ropes Course.
Competition Challenge Day. The program will feature several demonstrations from Law Enforcement Agencies. However, the main focus of the day is the competitions the Explorers partake in. The following is a list of the program highlights.
Demonstrations. The following elite units will provide an "inside look" into what they do; FBI SWAT Team, ATF Bomb Truck, ATF K-9, NYPD Emergency Service Unit, and MTA Police Spy Van.
Competitions. The Explorers will compete in the following competitions: Bomb Threat Response, Domestic Dispute Intervention, Felony Traffic Stops, Drill Competition, Burglary in Progress, and Search and Arrest Procedures.
National Leadership and Competition Conferences. Explorers may also have the opportunity to travel to a selected state (varies annually) to compete and/or benefit and learn from several participating agencies and fellow explorers on a national level.
Other activities Explorers can participate in include:
"Annual Recognition Dinner, Various Community Services ranging from assisting at marathons/walks, to attending FDNY simulated-training drills in an effort to better our city.
Position Statement
Learning for Life programs are designed for all age groups from kindergarten through age 20. Youth participation is open to any youth in the prescribed age group for that particular program. Adults are selected by the participating organization for involvement in the program.
Color, race, religion, gender, sexual orientation, ethnic background, disability, economic status or citizenship is not criteria for participation.
Law Enforcement Exploring
The Interchurch Center
475 Riverside Drive New York, NY 10115
Available Forms: